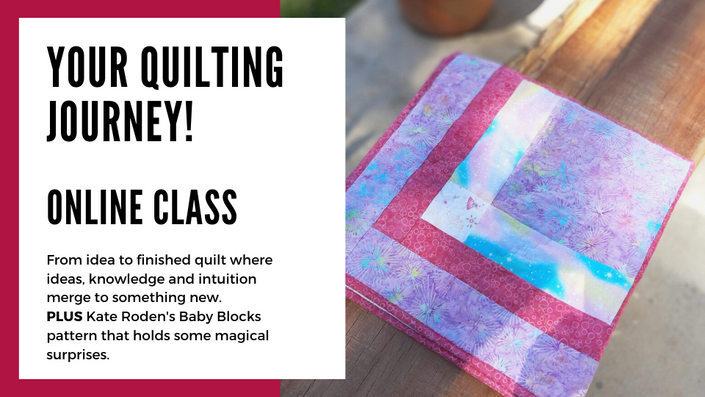 Choose your payment option between
US$ 67.00 - AU$ 85.00
If you have a coupon code received before March 2021. Please contact me directly via email ([email protected]) to redeem your coupon code. Thank you.
Your quilting journey! is a passion project of mine as sewing always held a special place in my heart. I have always sewn on and off since I've learned it back in school but once I discovered quilting in 2013 it sparked my creativity in a way that I have never thought possible. By experimenting and approaching the whole quilting process in an intuitive way I was able to design my own quilts with a very unique and personal touch. And the most magical part in my opinion is the part when your finished masterpiece becomes something special for the recipient.
With this class I don't just wanna teach you the techniques or make you follow a pattern blindly, I also want you to be part of the creation story. Because the story that you bring to your quilt or the story the other person adds after they receive your quilt is the true magic behind quilting. Ask any quilter and I am certain that most people will tell you an amazing story that accompanies every quilt because that's what quilters are, we are writers but we speak through fabric, shapes and our initial moment that made us create the quilt.
If you are keen to learn this craft and dive into a magical world that enables you to live your creativity and create wonderful and unique quilts for your family, friends or charity organizations than don't wait and miss out on this once in a life time opportunity.
Your Instructor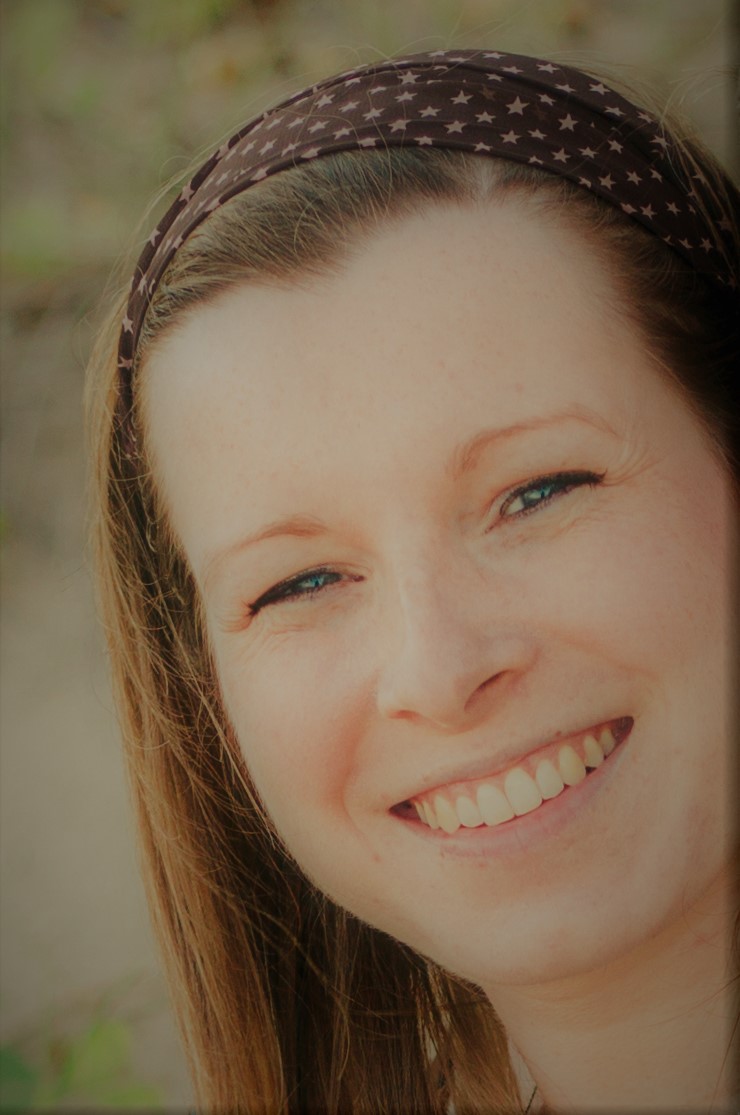 Hi I'm Susanne an Inspirational Sewing Instructor who loves quilting and creating any quick and easy sewing projects.
I always try to see the positive in everything no matter how tiny the "good spark" is. And whenever possible I try to see this in the fabric I choose as well or I stitch good memories or a good feeling into my projects. Sew with purpose and make the most of the time you have.
If I'm not sewing I either spin ideas what I could create or simply enjoy spending time with family and friends.
What you get?
In this class I'm using a baby quilt as the quilt sample as it is small and makes it a great first project for beginners especially when using a regular sewing machine. However, by making a small tweak you are able to use this quilt as a teenager or ladies square lap quilt. PLUS the great "Baby Blocks" pattern by Kate Roden from Quilted Daisy which also holds a nifty trick perfect for Christmas. Find out more below.

These are all the goodies you are going to receive with this offer:
1) You will have access to the "Your Quilting Journey!" course which holds all the knowledge you need to know to create your own quilt. Here is a rough overview what is included:

Together we will go through what a quilt is and it's anatomy
I'll teach you about fabric preparation and show you exactly how to cut your fabrics
You will learn 2 simple block patterns step by step (nine patch and disappearing nine patch)
We will go through in detail about sashing what it is and how to do it
We are going to add borders
Together we will create a quilt sandwich and prep it ready for quilting
Fearless quilting by learning simple techniques that everyone can easily do on their home sewing machine
And of course I'll show you how to bind your quilt. A simple technique with some tricks a long the way to make it easy for you.
I'm already planning to add a couple more things which will be added to the course over time. :)
2) You will get access to my Facebook group in which you can connect, celebrate successes and ask questions.
3) Free updates on everything that I improve or add over time. You never have to pay for any improvements I do to the course. :)
4) You will also receive the great "baby blocks" PDF pattern by Kate Roden from Quilted Daisy. She designed a very simple beginner baby quilt pattern that can be turned into a tree skirt or queen size quilt in just a few simple steps.
Take your first step into a magical journey of "writing with fabric".
This is how the finished quilt will look like.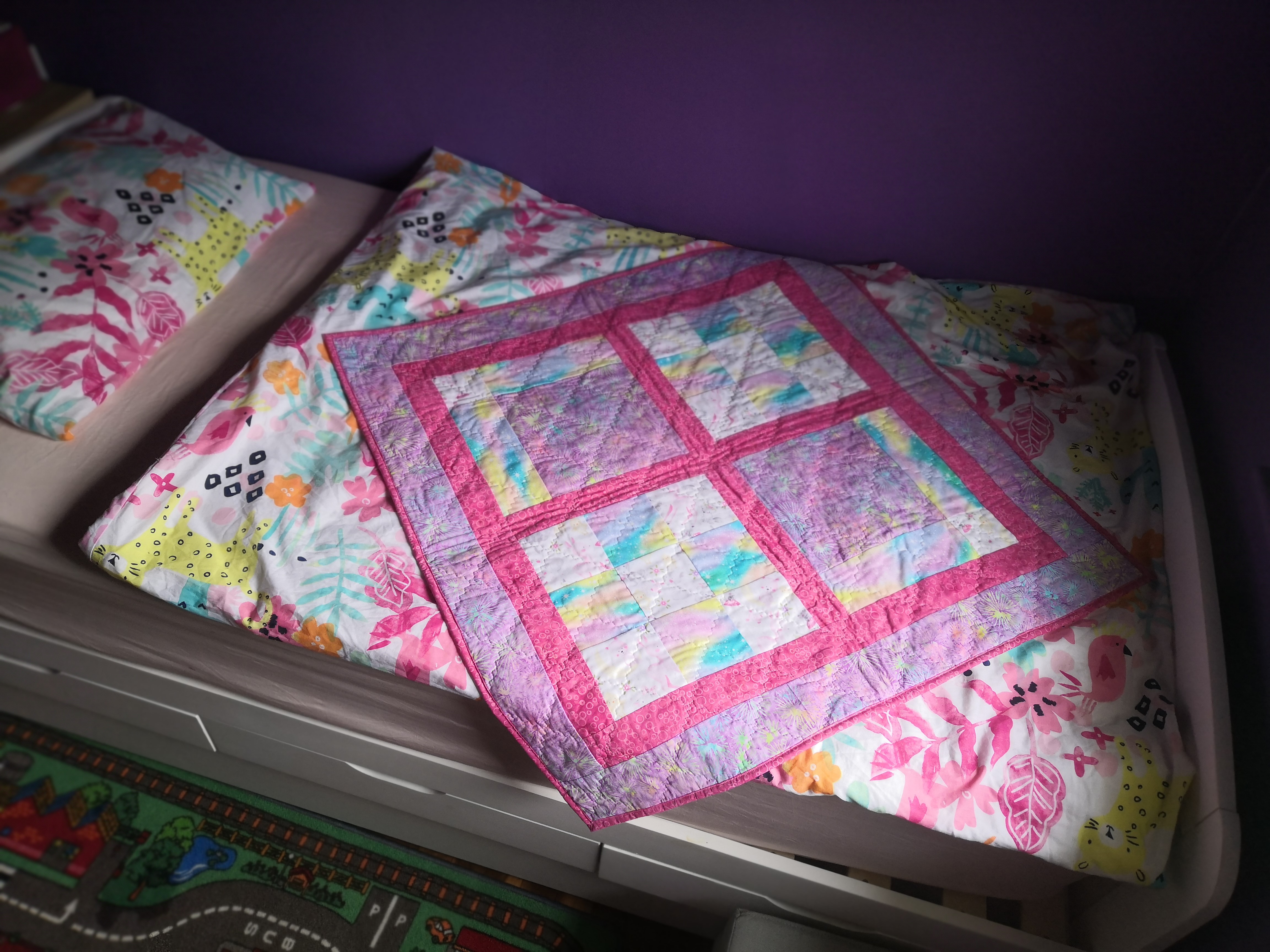 This is how the finished quilt "Baby Blocks" - by Kate Roden looks like: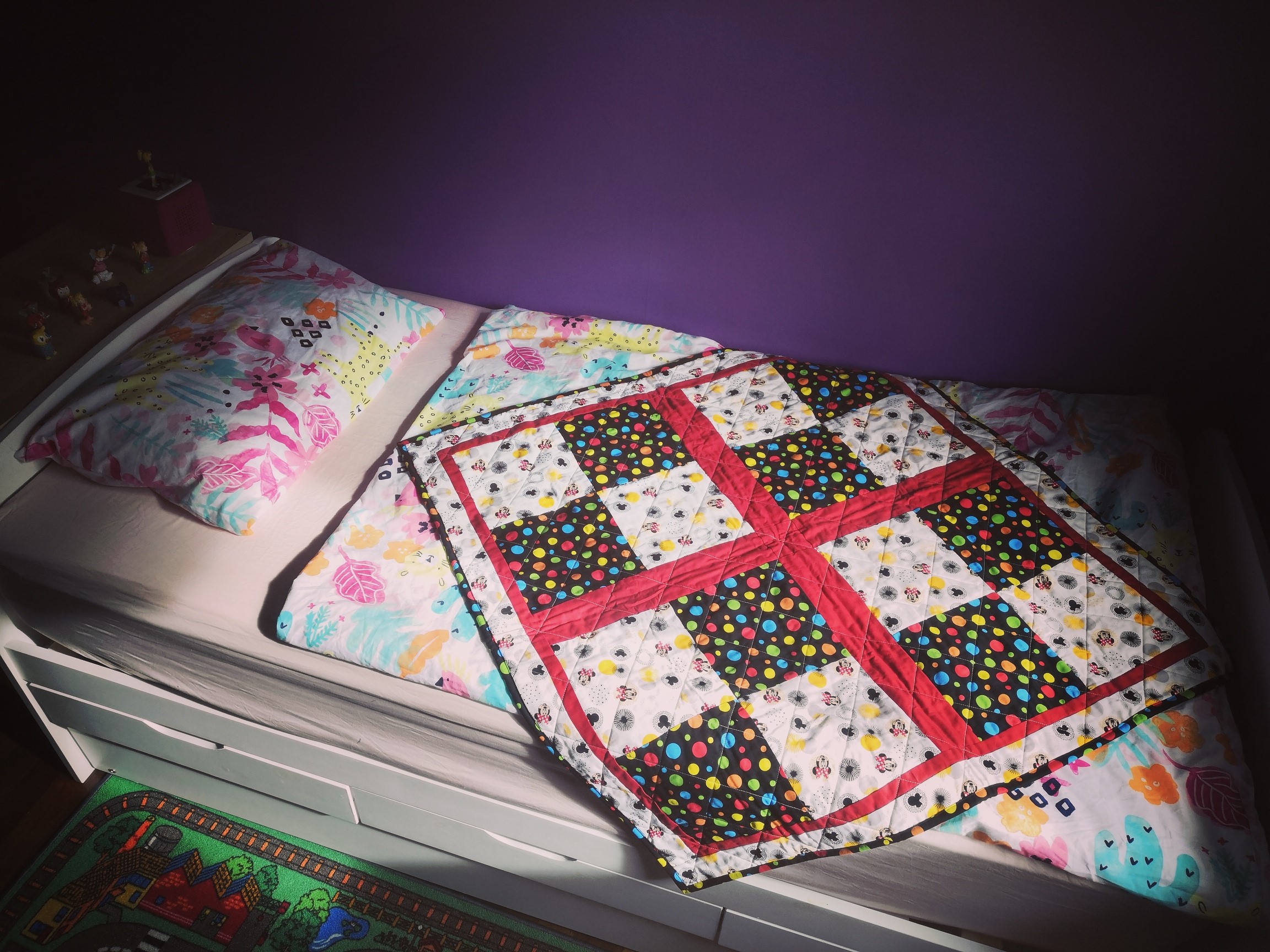 Quilting techniques open up a whole new world of creativity. Ideas are endless and only limited by your imagination.... stories and memories stitched into a heirloom piece or a simple every day item that will fill your life and the life of your family and friends with joy and positive vibes.
It is hard to describe in words how quilting can impact your life and change your way of gift giving and creating special moments. It is something to be experienced and lived.

Are you after some creative spark and magical moments in your life? Do you feel fascinated by unique projects made by you? Creating something from scratch and turn it into a unique gift that holds your story and memories?
If you do I'm sure you will benefit from this quilting course. Grab your sewing machine and get started.
Benefits of taking an online class:
Time saver - By having everything in one place you don't have to waste countless hours to search online for answers.
Every sewing step has been recorded from my point of you so you know exactly what you have to do and don't have to awkwardly try to imagine you into my body to understand the next step.
Occasionally, when needed I show you what I do from a different angle to assure the best and easy way of learning.
Never miss an appointment or face an awkward cancellation due to life happening. I know how hard it is to commit when having children or following a career path. Life can get hectic and our plans get thrown over board in no time. With this online class you plan what works for you and when.
You don't have to carry your heavy sewing machine to class instead you enjoy learning from the comfort of your own home.
Learning at your own pace. As everything is pre-recorded you'll never miss a step as you decide how fast or how slow you'd like to go to feel comfortable in learning a new skill.
Watch, pause, repeat.... you are in charge of the learning materials. If you need to see something again just go back and watch it again as often as you need to. And if you have to pause because something else came up you can do so without missing a beat.
And of course you can always send an email if you need help. I'll do my best to answer it as quickly as possible. :)
All courses are hosted on my website and provide you with a structured and organized way of accessing your course materials. It will even keep track of what you have completed and what the next step would be. No awkward videos scattered all over the place and you'll never find them again.
Now, it's your turn to decide if your life style would benefit from an online quilting course or not.
If you decide this is the way perfect for you to learn then I'm looking forward to meet you at your sewing machine and get started. :)
Frequently Asked Questions
When does the course start and finish?
The course starts now and never ends! It is a completely self-paced online course - you decide when you start and when you finish. Make it work with your unique life and never have to juggle appointments.
How long do I have access to the course?
How does lifetime access sound? After enrolling, you have unlimited access to this course for as long as you like - across any and all devices you own.