Choose your payment option between

US$ 16.00 - AU$ 20.00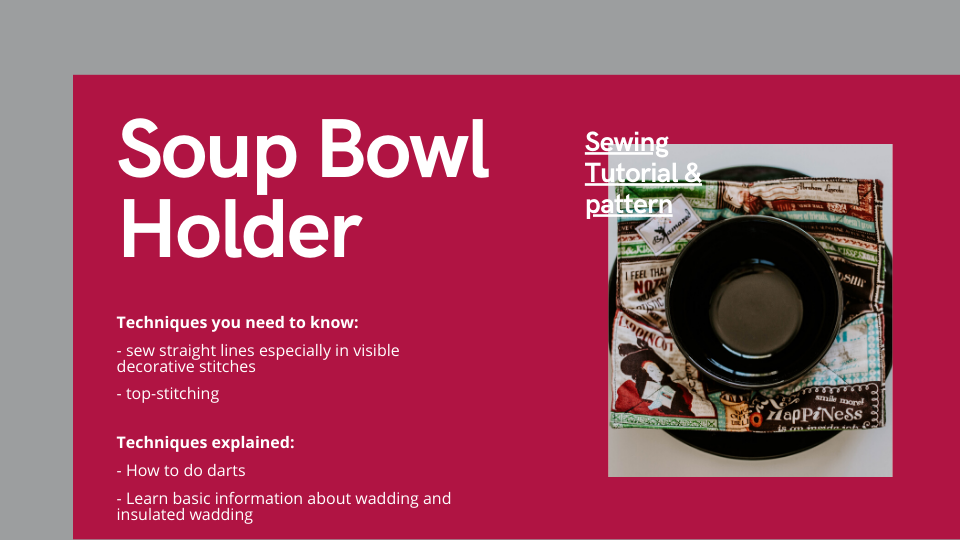 "Not just a beautiful accessory but also a handy everyday helper"
"I wished we had always used these lovely soup bowl holders. Best invention EVER!"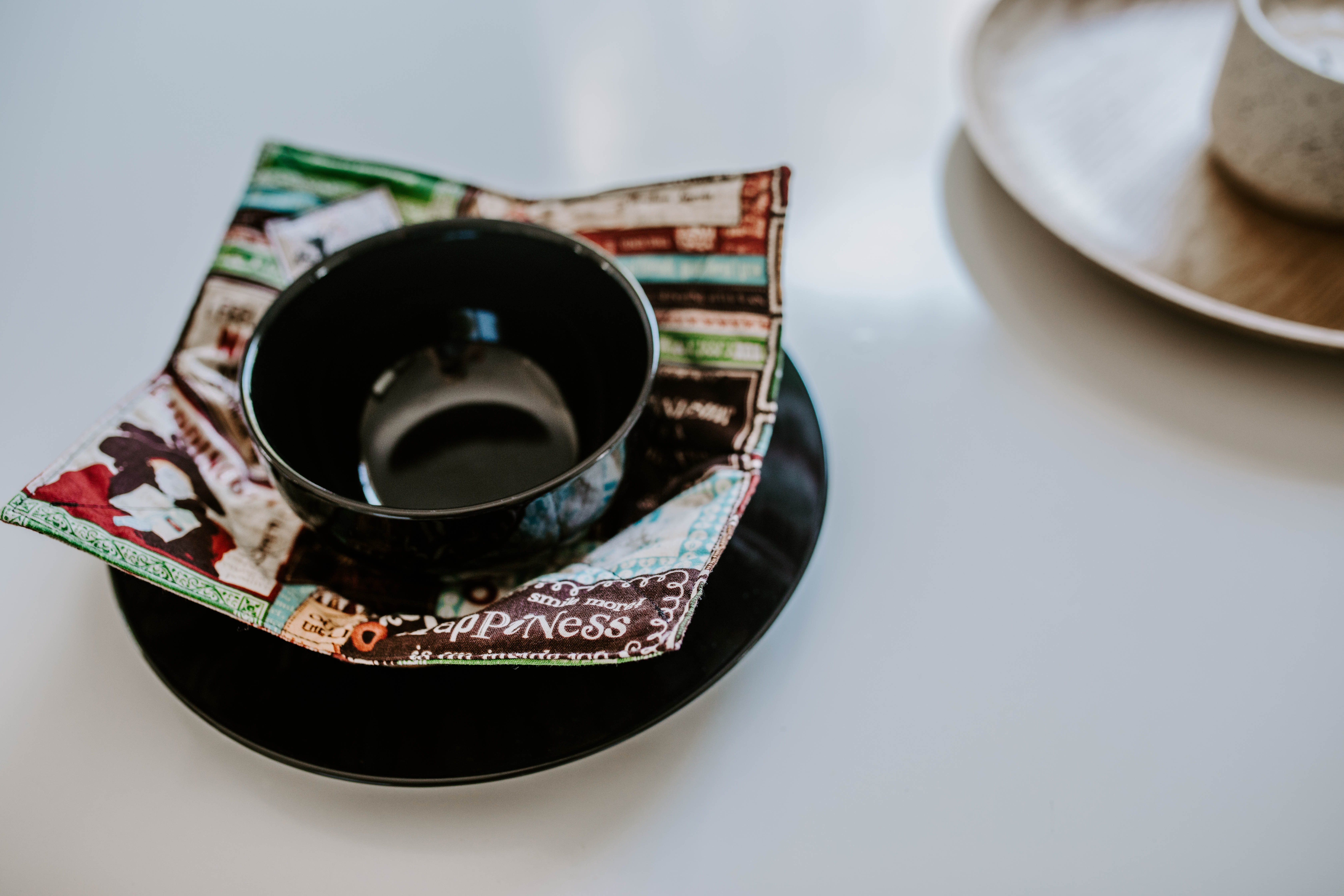 A sewing project that will turn your world around if you are a soup, pasta or stew lover. Anything served in a hot bowl you can now enjoy comfortably without burning your hand.
Its simplicity yet versatility is absolutely fascinating. While its construction is simple and quick it can be used for gifts you need on short notice but it also serves as a great everyday helper for young and old. We've been there before having kids and enjoyed a delicious meal on the couch; elderly who are bound to a chair may welcome this gift as well. It doesn't just look pretty it also will protect you from burning yourself on the hot bowl. And because it is so small and light you can easily send it to anyone you hold dear around the world without costing you an arm and a leg in postage.
Keep reading and learn more about its features, see some more examples on how to use it and discover how to make it even more special and unique.
A great project to improve your top-stitching sewing skills, straight sewing and learning more about simple wadding terms, insulated wadding and how to do darts
Let's have a closer look when this soup bowl holder becomes a handy everyday helper:
Soup Bowl Holder


Of course this is the most obvious. You can place your hot bowl of curry, pasta, soup or anything else served in a bowl into those handy bowls and avoid burning your hands while enjoying your delicious meal on the couch while watching your favourite show. I know some of you may think why on earth would you eat your food on the couch for starters and don't you have a table? Well.... we all were young once and to be honest yes we've done it numerous times before we had children. In the beginning I always used a tea towel to protect me until I found these wonderful little helpers.
Best gift to anyone who chooses to enjoy their meal this way. And think outside the box maybe elderly are not able to have dinner at the table anymore and bound to a special chair that's more comfortable for them. This bowl can turn into a very helpful helper and also reminds them on the person who created it. :)



Microwavable bowl


Yes you could use it as a microwavable bowl as well IF you make sure all materials are made of 100% cotton this includes your thread as well. Personally I recommend NOT to do it as you are not able to test your finished product with every type of microwave available but some out there say it does work when using 100% cotton. This also includes no scrim on your batting. Any other materials could cause your item to catch fire so please be careful. See disclaimer below.



Place some treats in it


For planned visitors or anyone whose visiting you on short notice. Just get it out and fill it up with some lovely treats. You could also place bread buns in it. Remember it is fabric and you can wash it. The only thing I would maybe rather not place in it is fruit. If the fruit lays in it for too long and it goes off it could be it will damage your fabric so rather don't do that. :) Nuts, anything dry or covered however should be just fine. :)



During hospital stays


I know this is a topic we'd rather don't like to discuss but honestly when in hospital anything with colour will make your day brighter. You can either use it to place your tablets in it, hand stitching such as cross-stitching for example. Sunglasses or anything else that fits in it.



Find a spot for hubby to place his keys


Is your hubby misplacing his keys all the time too? Or is it you who does it? Give it a try to organise yourself with this handy helper. Place it on a spot you pass everyday and you'd most likely would place your keys. Try to stay consistent for 90 days to always (every day) place your keys in it to form a new habit and you will never ever have to search for those darn keys ever again. And bonus point you can style it so it suits either your hubbies taste or in the way that it suits your in-house decoration theme... nifty hey?


I'm sure there are way more ways of how to use it. Be creative and think outside the box. Make sure you check out the ways you can make them even more special with your very own and unique touch. :)
Disclaimer:
Even if you use 100% cotton to use your bowl in a microwave please test it first in the microwave you intend to use it in the end. Every machine is different and if not careful your item can turn into flames. My recommendation is to heat up your bowl as normal and than transfer into your soup bowl holder. This way your fabric is cool to hold and not hot and you avoid unintended accidents.
Now let's have a closer look how we can make them even more special and unique
This one should be an easy one for everyone to guess obviously by choosing specific fabric that suits your style and your preference.
But I'd like to top this with something you may have not thought about before.
Have you ever seen a fabric before and you seen something in it that others haven't? I'd like to use the example of this fabric that I found from Benartex. It's called "Dance of the Dragonfly Swirling Sky" and the fabric has some swirls in it but also some dots and stars. Let's have a closer look.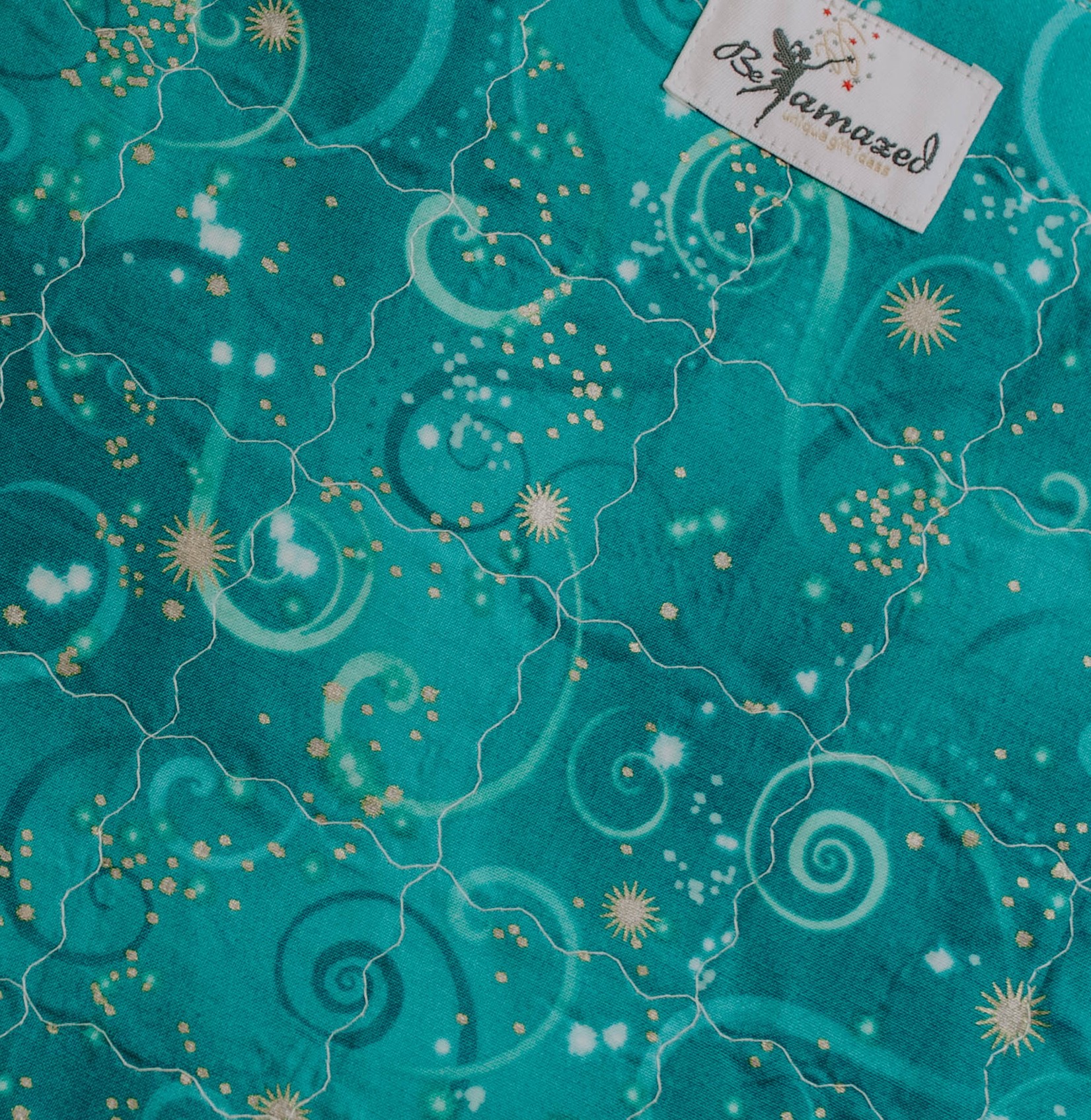 When I saw this fabric for the first time I was mesmerised by the pattern. And I'd like to ask you to imagine your life is like a swirl as shown in this fabric surrounded by white dots the ups and downs in life all the obstacles you have to face. The stars watching over you and reminding you of the good things in life and to never give up! No matter how much we get tossed around we always come out stronger than before.....
Next time you look at fabric to choose for your project look at it deeper and see if you can even see a bit more than just the pattern that's visible. :)
Your Instructor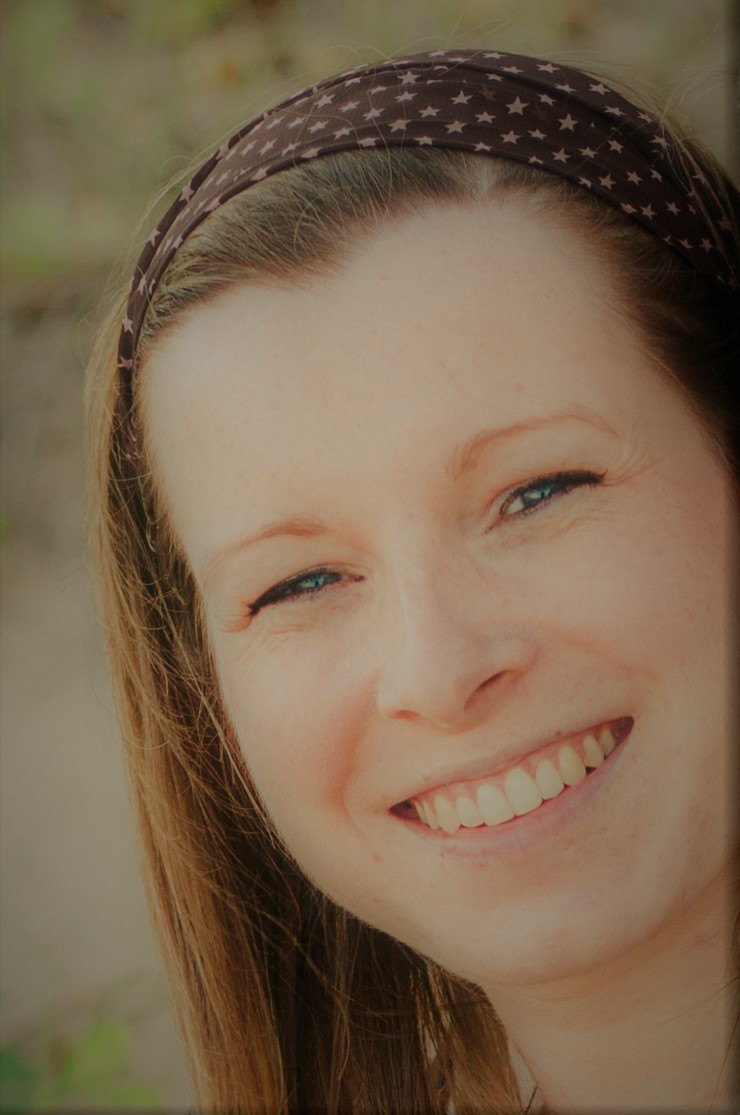 Hi I'm Susanne an Inspirational Sewing Instructor who loves quilting and creating any quick and easy sewing projects.
I always try to see the positive in everything no matter how tiny the "good spark" is. And whenever possible I try to see this in the fabric I choose as well or I stitch good memories or a good feeling into my projects. Sew with purpose and make the most of the time you have.
If I'm not sewing I either spin ideas what I could create or simply enjoy spending time with family and friends.
What's included in this tutorial?
Detailed video instructions on how to create one of these wonderful Soup Bowl Holders. As in all my tutorials you will see them from my point of view for quick and easy understanding.
You will receive a written pattern to tell you exactly what to do in each step.
The PDF pattern comes with check boxes to tick off each step once completed so you always know where you at. You will also have a section in which you can write notes specific to your machines settings. In this way you never forget what to change to achieve the best results.
I will give you some more information on the use of wadding and insulated wadding for this project. We won't cover the whole lot as it would be too much and it will be covered in my beginners Quilting class but it will give you the information you need to choose the right wadding for you for this project. :)
I'll explain in detail how to do darts. They are very common in garment patterns and in those projects need to be very precise to create a good fit. If learned in home decor projects however you get away with not being too precise as you can still use it and no one ever will know if it didn't work out perfectly right away. ;)
And of course you can always ask questions within your course which will be answered by me as soon as possible. As always I try to answer any questions as soon as possible but please be patient and give me at least between 24h - 48h.
For whom is this course for?


Everyone who has basic sewing skills and is at least a confident beginner who feels confident in sewing straight lines, doing a top-stitch and/or decorative stitches and knows how to prepare/cut their fabrics.
Everyone who is looking for a fun and easy project to create.
Everyone who prefers video tutorials over written instructions (although you are getting both with this course) :)
If you are a beginner who doesn't feel very confident in above mentioned basic sewing skills but you feel confident to tackle a pattern and improve your skill than this project could be something for you as well. After all if you don't try you'll never gonna get better in it. And at least even if the stitches are not 100% straight you can still use it. :) It is a simple pattern with only a few steps. :)


Please note that I'm not explaining basic sewing knowledge in this class. If you happen to experience to struggle with some basic sewing knowledge please go to my Absolute Beginner Machine Sewing Class which covers all basic sewing knowledge you should know. Thanks for your understanding. These short tutorials I'd like to keep interesting for every sewing level as they are always fun to make no matter how experienced you are. :)


However if I should happen to use a skill set not covered in my beginners class I explain in detail and it is outlined in the section what's included in this course. This way you can add on new skills with confidence and in a fun way. :)
Frequently Asked Questions
When does the course start and finish?
The course starts now and never ends! It is a completely self-paced online course - you decide when you start and when you finish.
How long do I have access to the course?
How does lifetime access sound? After enrolling, you have unlimited access to this course for as long as you like - across any and all devices you own. All materials and videos in this course are under copyright and you are only allowed to use the materials for yourself and for private use only. Any kind of distribution or public sharing is not allowed.
What if I have questions or I got stuck?
The quickest way is to use the comment option within the course. Or a more personal way by sending an email. While I'm trying to answer every question as soon as I possibly can please give me about 24-48 hours.
Is the pattern included?
Yes the pattern is included in this tutorial. Imagine you would buy a paper pattern from any online store but with my tutorial you also receive very detailed video instructions and help along the way. :) Not just an add on that shows you a couple of tricks no, I guide you through the whole process step by step. However certain basic sewing knowledge is not covered in detail but you'll still see that you have to do this step.
Soup Bowl Holder photo gallery and inspiration