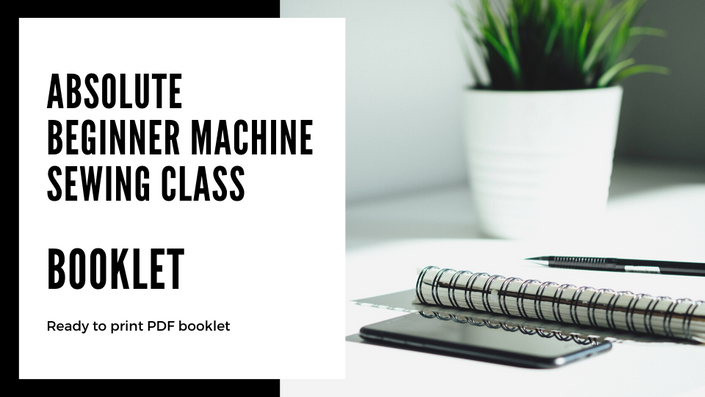 Choose your payment option between

US$ 16.00 - AU$ 20.00
The perfect helper when you get stuck while sewing as a newbie. Forgot how to thread your machine, issues with your needle or your tension just open it up and find help. It also contains a quick start guide in thread, stabilizer and fabric knowledge.
Our Absolute Beginner Machine Sewing products are created to support different levels and different needs for anyone whose interested in learning machine sewing. We want to make sure to deliver the information you need to create the right foundation from the start.
Our PDF booklet is designed for anyone who already knows how to thread their sewing machine but maybe needs a little cheat sheet every now and again to keep your memory fresh without always searching online for hours to find the knowledge you need. Especially in the beginning you may experience that you have to look up simple steps a few times before they become second nature. The booklet is also included within the ABMSC - BEGINNER PACKAGE as well as the ABMSC - WORKSHOP.
What's included?
Learn more about all the goodies that you are going to receive
Ready to print PDF documents:
Sewing machine functions explained
Sewing feet overview of most common and handy sewing feet (with the focus on quilting)
Winding your bobbin
Insert your bobbin [top-loading and front-loading explained]
How to thread your top thread
Fabric structure explained and how to place your pattern for cutting
Quick start guide [fabric, thread, stabilizer]
Needle overview
Tension trouble shooting guide
Benefits
Learn how you can benefit from this booklet
Available right away via instant download
Time saver as it is all in one place so you don't have to search around for answers. This is especially helpful when you live a busy life and the time you have is valuable. Don't waste your time with spending endless hours searching for something if you can have it all in one place.
Detailed coloured images that show you exactly how to place your thread with a detailed explanation.
Sewing needle overview will always be a valuable knowledge base no matter where you're at in your sewing journey. It will provide you with the knowledge and steps on how to choose the right sewing needle for any project.
The tension and trouble shooting guide is also an evergreen helper no matter how far advanced your sewing knowledge is.
The handy quick start guide on fabric, thread and stabilizers gives you a short and quick overview on what to look out for and what it is without making you feel overwhelmed by receiving too much information at once.
Options to upgrade in case you need more guidance. Either our Absolute Beginner Machine Sewing BEGINNER PACKAGE class or the all in one WORKSHOP. Find a special link inside the course to save money. (The link will be added soon. If you need it before it has been added please email me).
Frequently Asked Questions
Why would I need a booklet next to my sewing machine?
Especially in the beginning when starting a new hobby you will have to look up certain basic steps a few times until they become second nature and you don't have to think about them anymore and just do it. For example threading your machine. Depending on how often you sew you will pick up the movements and memorize them eventually but until then you may need to check every now and again how to do it. Having this booklet with the exact steps handy you safe time by eliminating additional searches online on how to do things as you have it handy right next to your sewing machine and you may have added additional notes that will help you for future trouble shooting specifically for your machine.
How long do I have access to the booklet?
How does lifetime access sound? After purchasing your booklet, you have unlimited access to this booklet for as long as you like - across any and all devices you own. All materials and videos in this course are under copyright and you are only allowed to use the materials for yourself and for private use only. Any kind of distribution or public sharing is not allowed.
Needle overview – why is that important to know?
Lots of people underestimate the power of choosing the right needle. The combination of fabric and needle can make or break your project. No matter where you at in your sewing journey you will use or try different fabrics and to make sure you don't destroy your fabric, experience skipped stitches or break a needle it is important that you learn how to use the right needle for each project.
Is the booklet the best way to learn sewing?
Not on its own. The booklet was designed to accompany my Absolute Beginner Machine sewing class BEGINNER PACKAGE/WORKSHOP and gives you an extra help when you are alone at home and need to quickly look up some steps. This way you safe valuable time searching for answers and you can add notes specific to your machine which will help to speed up your learning experience. The best way to learn sewing is to either learn it step by step via our BEGINNER PACKAGE or the WORKSHOP. The ABMSC BEGINNER PACKAGE is great for anyone who likes a small and compact course to just learn the absolute basics or to re-fresh their skills and the WORKSHOP is ideal for anyone who wants to quickly transform into a confident beginner.
What is a top and a front loader in sewing machine terms?
When your bobbin is inserted from the top of your needle plate it is a so called top-loader. And if your bobbin is inserted at the front of your needle plate it is called a front-loader.
What sewing machines do you use to demonstrate the threading?
In this booklet I used my small brother BM2600 showing the set up for winding your bobbin, how to insert your bobbin from the top and exact steps for threading your top thread. I used my more advanced machine Bernina B750 QE showing the set up for winding your bobbin as it's slightly different as on the other machine and how to insert your bobbin from the front. It has a more modern bobbin case compared to some older models but the main mechanism is still the same.
Is there a refund option available?
Due to the nature of this product being a digital downloadable file we are not able to take any refunds after purchase. But we are sure that you will benefit from the knowledge provided within this booklet especially the time saving part that enables you to jump straight to your next sewing project. :)