Everything you need to know about how to create a face mask with an option to include a filter and nasal strip or without and important facts about home made masks, correct handling etc. before using them.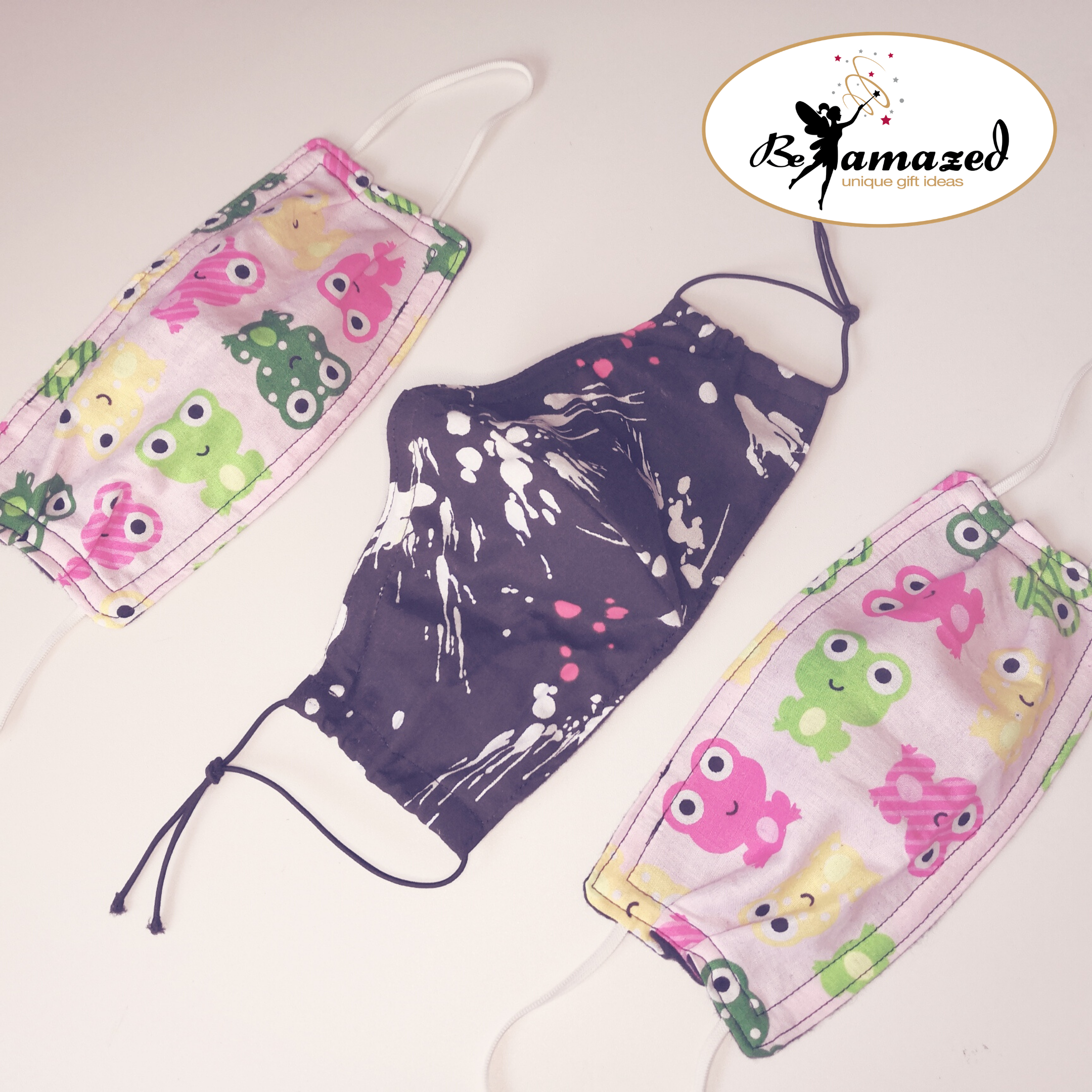 31/3/2020 EDIT: I added an update and some more information in regards to the face masks tutorials. Please scroll down to find out more.
In the past days I have seen many videos and posts popping up online on how to sew your own face mask and also seen posts and newspaper articles that hospitals are looking for anyone who can sew to create face masks.
In this blog post I'd like to give you all the important information that is to know about
- Home made face masks,
- Important hygiene information everyone needs to know who is wearing any type of face mask as per WHO (World Health Organisation)
- Which countries are seeking help from the public in sewing face masks and how to check if Australia is in need as well and what charity organisation to check.
- Patterns for a simple mask and a mask with some additional filter options and nasal strip.
Questions and answers
1) Can a home made face mask protect me from catching COVID-19?
NO. Home made face masks are not PPE (Personal Protection Equipment). No matter what fabric or extra filter you use it will never be the same standard of protection as a proper PPE mask will give you.
However, if you are sick (could be also a normal cold etc) and you need to go out those masks can prevent your germs from spreading by stopping any droplets when sneezing or coughing to enter the world and it will stop you from touching your face and spreading your germs even further. It can also be helpful when taking care of others who are more vulnerable than you are. Please also note that you still have to do a regular hand-washing hygiene as shown everywhere at the moment. Using a mask doesn't mean you can stop that or any other hygienic measures that you should be doing right now.
2) What are the proper hygiene methods for using a mask?
This is important and should be followed by anyone who is using a mask no matter if home made or using a proper PPE mask. I found some very helpful information on the WHO (World Health Organisation) website. They also have printable's in case you need them to educate your staff etc., myth busters and other helpful information. Please click HERE to be transferred to the WHO information.
3) Are Australian hospitals seeking help in sewing masks?
This question can not be answered with a definite yes or no. While writing this post I have checked two well-known Australian hospital charities and each of them have given a different answer.
NICU food from the heart - life's little treasures foundation (link is referring to their website), have NOT been asked by hospitals to supply face masks. As to their knowledge they are very well stocked. But the lovely ladies there have said once this should change they will let everyone know.
Sewing for Charity Australia (link is referring to their Facebook site), has been approached by some patients and some healthcare workers to sew face mask but at the moment it seems most healthcare workers are especially asking for scrub caps. I got a recommendation on which pattern to use for sewing scrub caps and will make a different post once I have tested it myself.
IMPORTANT NOTE: Always check with a charity organisation first what they require and which pattern is recommended before starting to sew. Hospitals have certain guidelines and they need to be met otherwise they may not be able to use your creations and this would be very sad for either side. Also DO NOT just sew items and bring them to the hospital near you. They may not need them. The charity organisations will know exactly who is in need and have a contact person who is in charge. This is important to keep things organised and sustain a good working flow. Please always keep this in mind.
4) What are those posts about that say hospitals worldwide are asking for help in sewing face masks?
Maybe you have seen some of those posts or maybe not but in the United States doctors or hospitals have approached anyone who can sew to help in creating face masks as they face a shortage on PPE masks. This was also published in Forbes which made me actually look into and see if Australia has done the same. At this stage though it seems Australia is doing good on PPE.
Another feedback I have received from a friend in Germany who has been asked by her local Dr. if she could please sew some for them. If you are located in the USA or Germany get in touch with your local charity communities or sewing community and ask how you can help.
5) Should we all start sewing now and stockpile until needed?
My personal opinion and what I have read my suggestion is no. Usually hospitals will have different standards on items they accept. I think it best to keep an eye on those hospital charities and see what exactly they are asking for and create those items. Those charities are the once that are in contact with the hospital and know exactly what they need and which hospital is in need. Not every hospital needs them or has use for them. Therefore always check out their website and post it to charity so they can make sure that it goes towards the people who ask and need them instead of being not used or put aside and wasted.
But there is nothing wrong with testing it so you get a feeling for it how to sew it and if needed you already know how to do it. :)
6) Should we all wear masks as soon as we're getting out of the house?
To tell you the utmost truth my initial thought was yes of course due to all the things you hear and your own worries are growing stronger and stronger etc. However, after doing my research I have come across some information the government in Singapore is sharing with their citizens. And found this quite interesting and helpful and I'd like to share this with you as well. I have not linked the whole article which was written by "The Conversation" which is a not-for-profit-media-organisation. The article was about how Singapore has approached the whole pandemic and what we could learn from them. As you can never compare two completely different countries as there are so many things that are different I thought it better to only share this image that caught my attention and not the whole article. But I think those masks can be helpful if you are feeling sick and you want to prevent your germs from spreading due to sneezing and coughing especially when caring for someone else. I'm NOT a nurse or any other type of healthcare worker therefore I'm not making any suggestions what you should or should not do. I'm only sharing some information that I found helpful and think you may found helpful as well. Also follow our government's instructions and their information on personal hygiene and what to do during this crisis.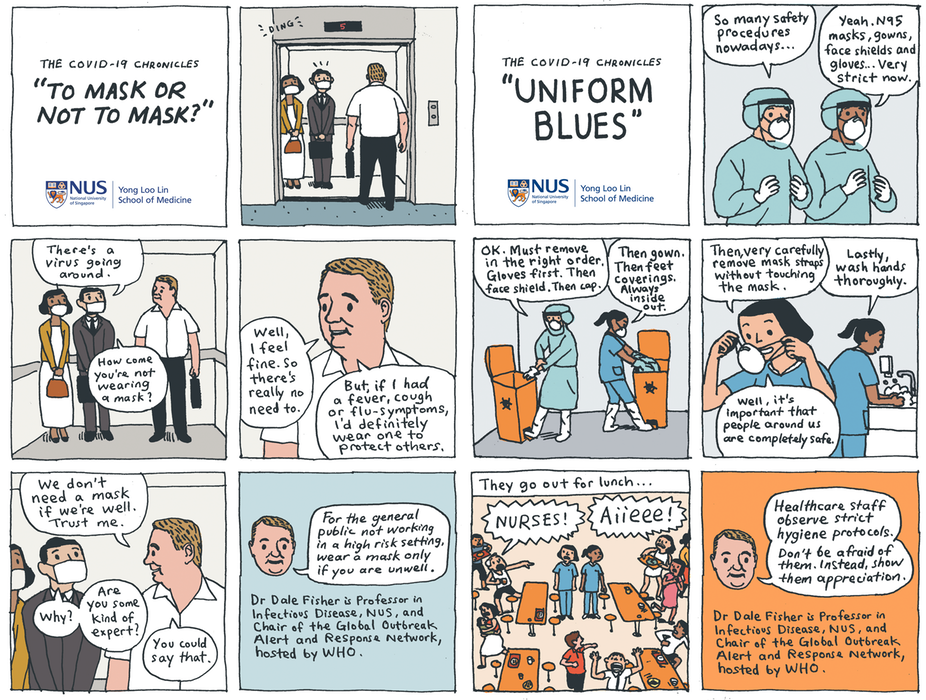 7) What is a good pattern for creating a face mask?
There are lots of video tutorials out there at the moment. If you just google it you will get lots of suggestions. However, I have found two completely different tutorials you may like.
Option 1:
Simple face mask as per "Sewing for Charities" recommendations and what they create for the people who contacted them. Please click HERE to see the very detailed video instructions. Please click HERE to get the pattern.
This seems to be the pattern most hospitals are asking for. Healthcare workers use the fabric mask and wear it over their regular PPE. In this way they are able to use their PPE mask longer in a safe way. Please check with your charity organisation if they rather prefer elastic or fabric ties. This may differ from request to request.

Option 2:
Face mask with option to include extra filter and nasal strip:
I found a pattern with pictorial sewing instructions on a German website "Naehtalente". The lady has also included an English version which I found easy to follow and I like the fact that you can include a nasal strip and extra filter if you'd like to. Pattern and sewing instructions in English please click HERE.
Disclaimer: This face mask cannot replace a medical respirator. It is an emergency plan for everyone who could no longer get adequate protection in the shops. The right medical respirator is still the best way to protect yourself.
I hope you find these tips helpful and if in desperate need you got two completely different patterns to help you out and sew your own mask.
Make sure that you check out the info about the hygiene part as this is VERY VERY important. Otherwise it can be that you touch the mask and spread the virus with your hand onto other surfaces which wouldn't be very helpful.
#StayAtHome #FlattenTheCurve #COVID19 #COVID19Australia #FaceMask #StaySafe
I'm concentrating on some sewing for charity in the next few weeks and months. As they need our help now more than ever.
Follow me on my journey!
To all of you stay safe and healthy.
Cheers
Sue